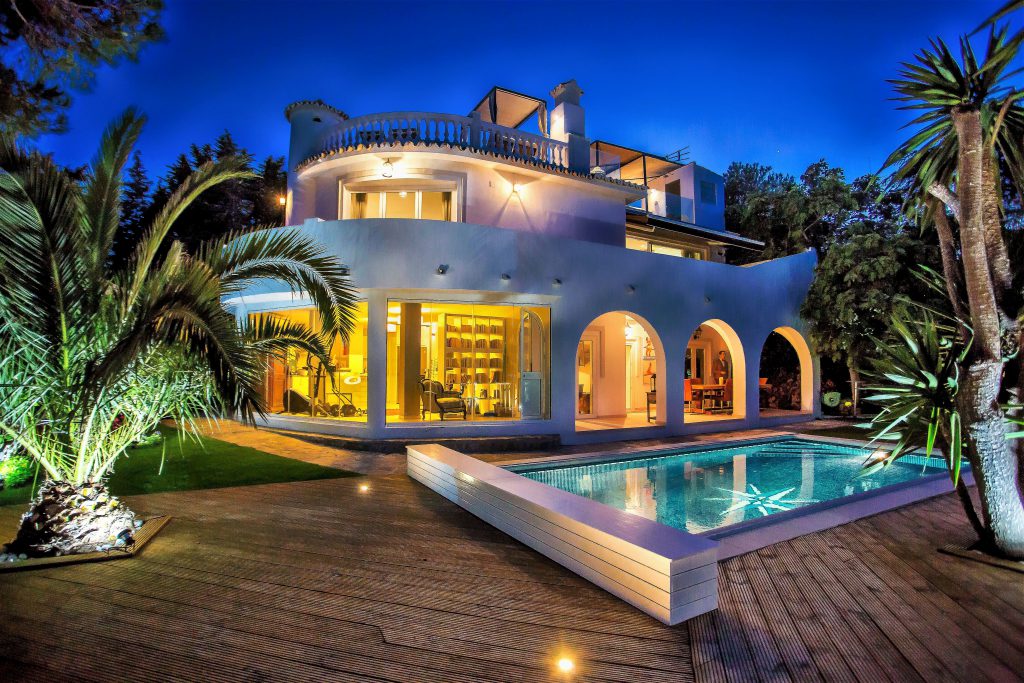 This unique beautiful Villa, suitable for 8 people, situated on a plot of no less than 1000m2, gives its residents the Ultimate Luxury Holiday feeling … Various outdoor terraces offer the opportunity to stay in the sun and in the shade at any time of the day. The spacious roof terrace (110 m2), with Jacuzzi and outdoor kitchen invite you to a wonderful evening. The spacious swimming pool (8 × 4) is there for the pleasant refreshment. (heated from January).
The beautifully landscaped garden feels like you are walking through a nature park! This carefully furnished Villa has 4 bedrooms (1 with its own kitchen, studio) and 4 bathrooms. And a spacious open Living of 100m2, with terrace around. From the bedrooms and studio you have access to the garden, swimming pool and another covered terrace.
The beach with several restaurants and lounge clubs can be reached within 5 to 10 minutes by car or by foot. Several supermarkets such as Lidl, Supersol are nearby. Also ideal for golfers, several beautiful golf courses within 5 to 20 minutes. The old town of Marbella, Mijas and Malaga are also worth a visit! With an average temperature in the period November to March of 18 degrees, and 6 to 8 hours of sunshine per day, it is wonderful to enjoy!
Prices per night:
01-01-2018 t/m 30-06-2018 : € 350
01-07-2018 t/m 31-08/2018 : € 500
01-09-2018 t/m 30-06-2019 : € 350
01-07-2019 t/m 31-08-2019 : € 500
01-09-2019 t/m 31-12-2019 : € 350
Prices 2020 on request